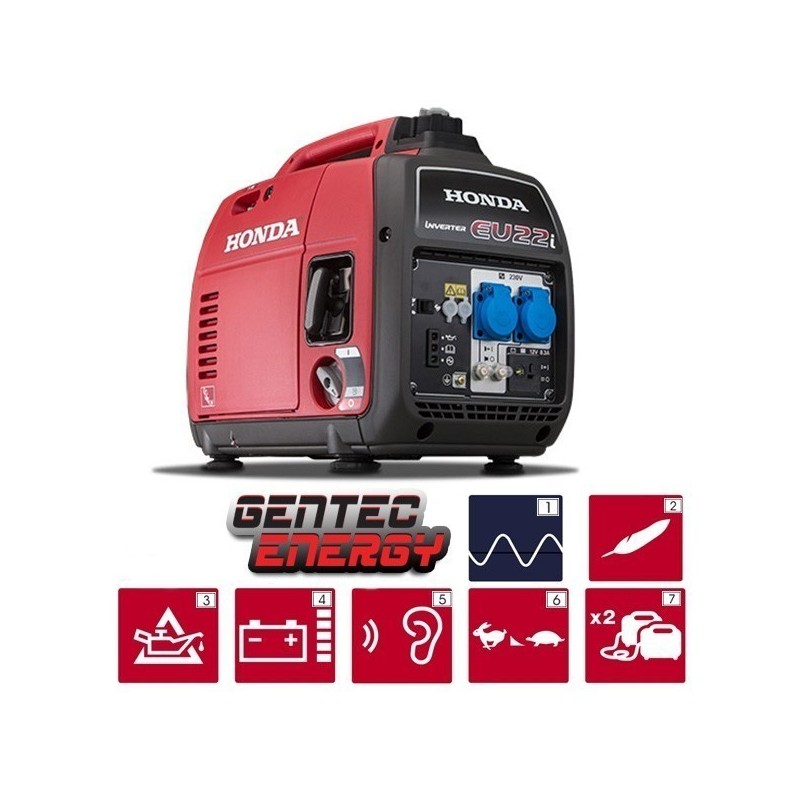  
Honda EU22i Inverter Petrol (2,2 kVA - 230V)
The super inverter Honda EU22i is the successor of the Honda Eu20i. This silent inverter delivers slightly more power (+200W) than the Honda Eu20i and has a number of areas for improvement.




1this pacific Honda Eu22i inverter delivers a very accurate voltage and is suitable for powering sensitive electronic equipment.

The points of improvement compared to its predecessor, the EU20i are:


+200W more power
Less CO2 emissions
Shun horgere capabilities. Winding of stator modified for better cooling.
Protection around starter to the generator so as not to damage
Oil level optimized: larger diameter and toegangkelijker
Possibility of fuel supply, to close for storage and oil changes
New grill on front of the generator for additional cooling

Click here for the differences with photos EU20i US EU22i
Data sheet
Type

Honda EU22i

Voltage regulation system

Inverter

Frequency

50 Hz

Voltage

230V

Sroomsterkte

9.5 A

Current is a dc current

12V / 8A charge current

Phase

1

Max. power

2,2 kVA

Continuous power

1,8 kVA

Engine

Honda GXR120, 1 cylinder, 4-stroke

The engine rpm

3000

Cooling system

Air

Starting system

Recoil

Sound level 7m dB(A).

61

Fuel

Petrol (EURO 98 - E5)

Emission class

Fuel tank capacity, contents,

3.6 L

Operating time per tank

8 hours

Weight

21 Kg

Dimensions (l x w x h):

511 x 290 x 425 mm

Warranty

2 years

EAN Code
Reference: PT0003B29
Honda charging cable 12V for the EU20i, EU22i, EU10i , EU30is.
Reference: Ref: PT0022B20
Double the power connect two Honda EU22i or EU20i together with this original Honda parallel cable. Always buy an original Honda cable due to warranty.